Jaxson Kirkland Scouting Report
Jaxson Kirkland is the Son of former Husky and NFL player Dean Kirkland. His pedigree is that of a football player. He towers over most people standing 6-7. He wasn't always garnering all the attention he does now though. As a high school senior in Portland, Oregon he was only a 3 star recruit. He had actually committed to UCLA, but when the Huskies came knocking he quickly had the opportunity to realize a life long dream.
Jaxson had began his carer for the Huskies as an odd looking RG. Most guards don't stand 6-7. After holding down the guard position, he was allowed to move to left tackle during the 2020 college season. All he did in his four games at LT was gather the attention of NFL scouts all over. PFF now has him ranked as their 3rd best offensive line prospect.
There isn't a whole bunch of tape on Kirkland at tackle, but the bit there is looks very promising. He looks textbook on the field and looks to have found his natural position. His feet move incredibly well allowing him to mirror the pass rushers and drive them past the pocket.
He gets his hands into the defender quickly and uses his length to prevent them from getting into his pads. The film from the game against Stanford is the type of film I'd show my son if he were an offensive tackle.
Kirkland is a versatile player having played both guard and tackle at a high level. We all know the NFL loves players who can help in more ways than one. He does a great job working to the second level while hitting guys along the way. He is a great pass blocker as well as a more than adequate run blocker.
In his game against Oregon State, he seals the edge on a defensive end then breaks free to hit the mike backer which allows his running back, Kamari Pleasant, to walk in for an easy touchdown. It doesn't look flashy, but it is textbook blocking.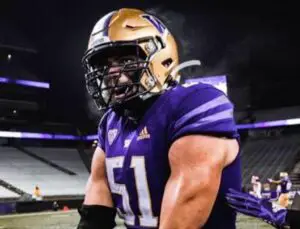 Kirkland only weighed 290 lbs last season and could add some strength, especially to play in the NFL. He has been rumored to be up to the 300 lb mark this season. He lacks finishing strength. I never see him blow anyone up or really knock them to the ground like a Trent Williams.
I notice his hands get wide more often than I like. In the NFL he would be susceptible to holding penalties. He needs to work on that this coming season. Good coaching and another year of experience will help with this.
On top of that, Kirkland lacks the elite athleticism NFL scouts look for in a left tackle. It doesn't mean he can't play there, but if it comes down to the draft, and scouts have him and another player rated similarly, they may choose the more athletic player.
I hadn't payed much attention to Kirkland, but he kept impressing me while I was watching film on his teammate Edefuan Ulofoshio, who I also like a lot. I went back and watched all the film on him and he is just too solid to not notice.
I do have a handful of tackles ahead of him at this point, but mostly just because they are better athletes. If Kirkland has an impressive senior season maybe we see him jump up our rankings. If the draft were tomorrow I'd say he is a day two pick and I'd look for a pass oriented offense to draft him.