Kayvon Thibodeuax, DE, Oregon
What can we say about Thibodeaux? Well we already said it. He's strong, athletic, and has played well against early NFL draft picks. The Oregon Duck is simply the best player in the 2022 NFL Draft, much like fellow Duck Penei Sewell was the best player in the 2021 NFL Draft.
Derek Stingley, CB, LSU
Stingley is the latest in a long line of talented cornerbacks from LSU. He has a good shot at being the number one corner in the 2022 NFL Draft. Stingley is a big athletic cornerback who plays smart. Something weird is going to have to happen for Stingley to fall.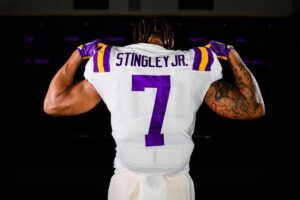 Kyle Hamilton, S, Notre Dame
No safeties were taken in the first round of the 2021 NFL Draft. We think that's going to change in a big way in 2022. We expect Hamilton to be an early pick in 2022. He's a huge safety, 6'4" 219 lbs. His size doesn't affect his athleticism at all, he's a freak athlete. Hamilton will be the first safety taken in the top ten in years.
Sam Howell, QB, North Carolina
Our favorite quarterback in 2022 and the first overall pick in our mock draft. Howell is an accurate passer with excellent arm strength. He reads defenses extremely well, especially pre-snap. We expect him to be the best quarterback in the 2022 NFL Draft.
Evan Neal, OT, Alabama
A 6'7" 360 lbs. offensive tackle? Amazing. He's huge, but he's also a good athlete. Neal has been playing right tackle and will move to left tackle this season. If he plays like he did last season, every NFL team will be drooling over him.
Kaiir Elam, CB, Florida
Man this is a talented cornerback class. Elam is another big, smart athletic cornerback. He breaks on the ball early, anticipating the quarterback's throws. Elam is a favorite to lead the nation in interceptions this year, that is if quarterbacks throw to his half of the field.
Chris Olave, WR, Ohio State
A 6'1" field stretching receiver who is a talented route runner. Olave can do it all and has soft hands. He will make big plays and catch passes over the middle. I can't wait to see what he does this season.
Christian Harris, LB, Alabama
Harris has played linebacker for two whole years and finds himself in the top ten. He transitioned from the secondary so his athleticism and coverage skills are excellent. Harris is already one of the best linebackers in college football and he's still growing into the position. Look out.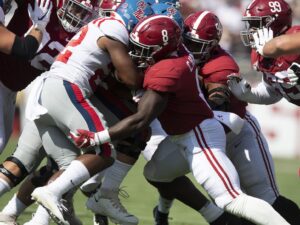 Zion Nelson, OT, Miami
Nelson has great size and excellent athleticism. He loves getting downfield and making blocks that create big plays. Nelson is a plug and play offensive tackle, the kind teams are always looking for.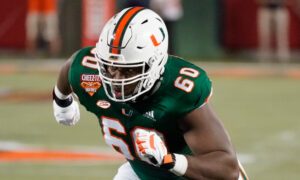 George Karlaftis, DE, Purdue
A big, strong athletic defensive end? Wonder if any teams will be interested in him. 2020 was weird, Karlaftis played in two games due to injury and covid, but racked up two sacks in those games. Karlaftis will dominate this year and should be an early 2022 NFL draft pick.