Dustin Crum Scouting Report 
Dustin Crum, Quarterback, Kent State
Dustin Crum is a senior quarterback for Kent State, so there's a good chance he hasn't come across your radar. But in a shortened schedule last year, here are the point totals for Kent State.
That seems good. What is also good is that he's thrown 32 touchdowns and just four interceptions over the last two years while completing over 70% of his passes for almost 4,000 yards. Now, this is against MAC competition, but those numbers are impressive against high schoolers. I watched his game against Eastern Michigan last season to get a better idea of what type of prospect Crum will be at the next level.
Fundamentals
I like that he make the fake, looks to his left to get any players in zone to shift that direction before quickly turning and firing the ball on the out route. It's not a rocket, but he got the ball there on what is a long throw from the opposite hash.
As for athleticism, he's not going to set the world on fire, but he can at least make a zone read and tuck the ball if the defense completely bites on the running back.
Confidence
Recently, I went over a quarterback who never seemed to challenge a defense. This is not an issue for Crum.
The throw is impressive, but it's not the most impressive part. This a beautiful deep ball down the sideline, but the most amazing part is that this is fourth down. The trust that the coaching staff has in Crum is incredible, and Crum rewarded them with this touchdown throw.
Awareness
It's not all sunshine and roses for Crum. He gets rattled by pressure, and Eastern Michigan was able to cause him some issues with blitzes in this game.
That looks like me playing football in that I'm just going to throw it high and far off my back foot and hope for the best, but please god, don't hit me. This was a repeated issue as he would continually drift back with any sort of pressure which killed his accuracy.
There's a positive and negative way to look at anything. On this play, let's start with the positive. His pursuit and intimidation lead to an excellent tackle without the threat of injury.
Oh, the pass? Yeah, not a great decision there. He seemed to struggle seeing defenders zoning underneath routes throughout this game and was nearly picked off again in a similar situation.
Conclusion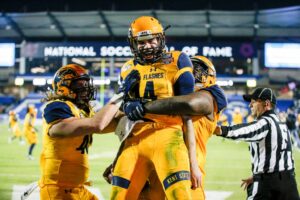 Physically, he has the arm strength, accuracy, and mobility to play in the NFL. The issue is the intangibles. He just doesn't seem to process information fast enough. He can't quite read defenses well enough. And he can't improvise when things break down. He can carve up a man defense without pressure, but if you can mix up your looks and put the pressure on him, he will likely be neutralized. Because of that, I see Crum as more of a camp body with a ceiling as a backup unless he can make significant strides this season.
-Joe Loncarich