Kayvon Thibodeaux Scouting Report/ Kayvon Thibodeaux NFL Draft profile
Defensive End, Oregon Ducks, # 5
Measurements
6′ 5″ / 258 lbs
40 Time: ran a 4.67 coming out of high school
Kayvon Thibodeaux NFL Draft Profile
When watching film for the Kayvon Thibodeaux scouting report, it doesn't take long to see that this young man is a special talent. Everything about him screams elite athlete. Kayvon Thibodeaux stands 6-5 and weighs in at 250 lbs. Teams scheme to avoid him and take him out of the game, but he still finds a way to make an impact.
Whether it be blocking a punt, or stopping a running back 1 foot behind the line on 4th and inches Kayvon steps up in the games biggest moments. I love the plays he makes that don't stand out on a stat sheet and the fact I never see him take a play off.
Against USC I saw one play where I almost questioned his motor, but he reminded me that I was wrong to do so when he mustered the energy to jump up and swat Kedon Slovis, who we have ranked as the 28th best prospect, in our pre season NFL Draft rankings. Thus allowing an Oregon DB to make a big play. I quickly realized he was gassed, but he didn't give up. That's what we call heart. That is something not all uber talented players play with.
Kayvon Thibodeaux has been bigger, stronger, and faster than his opponents for most of his life. I've read that when he was ten years old he was so much stronger and faster than others that referees took him out of games to protect the other players.
As a high school junior at Oaks Christian in Westlake, CA he put up 20 sacks along with 99 tackles. As a senior he followed that up with yet another 18 sacks and 54 tackles, while garnering attention as one of the top recruits in the country according to 247sports. Nothing has changed ahead of the 2022 NFL Draft. Kayvon Thibodeaux is still a top prospect. As a matter of fact i have him as the best NFL Draft prospect.
Along with his athleticism and brilliant production on field, Kayvon carries himself with class and maturity. He maintained a 3.8 GPA in high school. Thibodeaux is not only a physical specimen, but a brilliant young man.
College
As a freshman at Oregon, Thibodeaux quickly established himself as a force to be reckoned with. During the 2019 season he contributed 34 tackles, along with 9 sacks and 3 passes defended. He even blocked a punt against Utah. It didn't take long for opposing coordinators to begin planning for him.
As a sophomore during a shortened season his stats suffered a bit, but his ability to show up when needed stood out to me. Not only does he make plays in big situations, he also closes games out strong. I would never want to be an opposing quarterback trying to make a comeback late in the game if he was lining up on the opposing side.
Kayvon Thibodeaux Strengths
Really, what doesn't he do well? Thibodeaux checks all the boxes. He has burst like no other lineman in this draft. His dip and bend are top notch. Kayvon Thibodeaux plays with a high motor and has a ton of heart. He maintains his assignment and holds the edge against the run. He can stack his blocker and move him down the line while making tackles. Heck, he is even able to drop into zone coverage on zone blitz plays.
This young man is phenomenal. I have him ranked as my number one prospect for the 2022 NFL Draft and for good reason.  It's just a matter of time before we are discussing just how good he can be on Sundays. There is not a doubt in my mind that he will be discussed with the Myles Garretts and T.J. Watts of the league sooner than later. Check some highlights here!
Kayvon Thibodeaux Weaknesses
I didn't take ranking him my number one prospect lightly. I've watched every snap he has played for the Ducks more than once along with as much of his high school tape as I could find. I find no glaring weakness. Yes, I see a few areas of improvement, but even if he doesn't improve he will be a quality edge defender for years in the NFL. But what would a Kayvon Thibodeaux scouting report be if we couldn't find a weakness?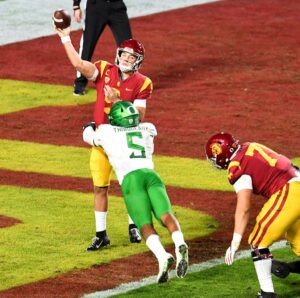 First, I believe  Kayvon Thibodeaux is strong but he could be stronger. I'd love to see him beef up a bit more and add more pure power. An NFL training staff should be able to do that easily. I don't see him win the bull rush as much as I think he could. If he can have a dominant bull rush along with his speed he would be almost unstoppable.
Lastly, I don't see a full arsenal of pass rush hand fighting techniques. I would like to see improvement here during the 2021 season. If I see his hands start to be more active this coming season, it will be goodnight to the PAC-12 quarterbacks.
Final Thoughts on Kayvon Thibodeaux Scouting Report
Thibodeaux is the best edge defender to enter the draft since Myles Garrett in my opinion. I would rank him ahead of Nick Bosa coming out of college. If the 2022 NFL Draft was tomorrow, he would already be my top pick. It would be not only be a safe pick, but a homerun pick as well. If he continues to improve, I could even see a QB needy team take him first overall. I want to call him a "Freak" but in a good way. I believe Jevon Kearse would agree that he deserves the moniker.