Kenneth Walker III Scouting Report: NFL Draft Prospect
Overview
Size
5'10", 210 lbs.
Kenneth Walker III 40 time: 4.4-4.55 estimated 40 time.
Kenneth Walker III has had a breakout season in 2021. Although he was good for Wake Forest, he has taken it to another level for Michigan State. In 7 games in 2020, he accumulated 579 yards (oddly, he had 579 yards in 2019 as well). In just six games with Michigan State, he has gained 912 yards. Walker has gone from being a guy to a DUDE. I took a look at his games against Northwestern and Miami to see if this dude was for real.
Kenneth Walker III Strengths
Vision
The first thing that stood out to me about Walker is his vision. He is able to analyze what is happening in front of him and make quick decisions to maximize his yardage.
On this play, he sees the linebacker (40) crashing into the open hole. Instead of barreling into him for a minimal gain, he notices a crease between the left tackle and tight end. He stutters and bounces to the outside to pick up 20 yards.
Change of Direction
He showed it a bit on the previous play, but this man knows how to make a hard cut and change directions.
This looks like a video game glitch. At one moment he's on one side of the hash, and then doop, he's now on the opposite side and everyone is left flailing at air. This is a special trait that Walker possesses.
Acceleration
The front of this play was cut off, but the important part is there. He's searching for his hole, and when he finds it, he wastes no time exploiting it.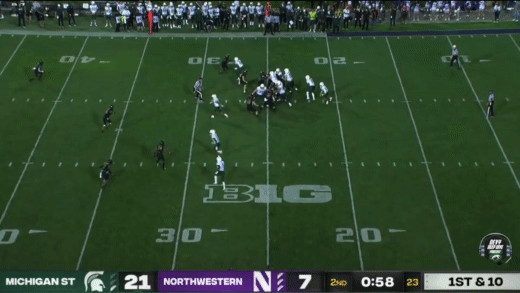 This is my favorite run that I saw from him. Sure, 75 yard touchdowns are nice, but this is so simple and beautiful. He makes a hard cut, and then looks like he got shot out of a cannon up the field. This is the type of play that you sit back and go, "Yep, that translates to the NFL."
Kenneth Walker III Areas for Improvement
Passing Game
Although he only has four receptions this season, I wouldn't say that he can't be a threat out of the backfield. He doesn't get many targets, but on the single instance I saw, he showed that he catches with his hands as opposed to his body. I can't quite proclaim him the next Marshall Faulk off of that single play.
On the other hand, his pass blocking could definitely use some work.
He doesn't take the first guy through which isn't great, but I can give him a pass on that. He's expecting the guard to hang with the lineman, but the left side of the line is not anywhere near the same page on this play. The left tackle is shooting to the outside, the guard is shooting to help on the inside, and they let a rusher straight through the middle.
Still, diving for ankles is not the ideal way to block. It's real bad. Against a lineman, I can at least understand the notion, but against a linebacker, it's best to square up and meet him in the middle. To be fair, it is better than I would have done. I would have immediately sprinted behind the quarterback and hoped that he could protect me. Alas, I am a coward with a keyboard, but I don't claim to be anything more.
Speed
He's not going to wow you with straight-line speed. He can be caught from behind. I think this is something that gets overrated in running backs, so it's not a huge concern for me. Would I like my running back running a 4.2? Of course. I would want an offensive lineman that could run a 4.2 if I could get one. That shit sounds awesome. But guys in the 4.5 or even 4.6 range can get the job done with vision, instincts, and acceleration.
Conclusion
Kenneth Walker III NFL Comparison
When I watched him, I was reminded of David Montgomery. They both are more quick than fast, and they both make good decisions with the ball in their hands. Montgomery is superior at breaking tackles as defenders seem to slip off of him. Walker does a better job with his acceleration and ability to avoid tackles.
Kenneth Walker III Draft Stock
With his vision and one-cut quickness, he's an ideal fit for a zone scheme, but I think he can have success in any offense. I don't think he's special to the level of a first round pick, but very few running backs are. I do think he's worthy of a day two pick and could be a full-time starter by year two.
 Author: Joe Loncarich