Chris Olave Scouting Report: NFL Draft Profile
Wide Receiver, Ohio State Buckeyes, # 2
Measurements
6′ 1″ / 189 lbs
40 Time: 4.38 seconds according to Ohio State records via Chris Olave Twitter account.
Chris Olave 40 time update after combine. He ran an official 4.39 at the combine.
Chris Olave Draft Player Profile
The road to stardom for Olave was a long one. He wasn't like most 5 star recruits that come to Ohio State. As a matter of fact he was only a three star recruit, and max preps actually had him rated higher as a baseball player than football player. That three star rating made him the third lowest rated player in Ohio States recruiting class that year.
Ryan Day had taken notice of Olave when he went to watch a quarterback he was recruiting. Instead, the young wide receiver stole the show. As a true freshman he would see the field after upperclassmen suffered injuries. In a game against Michigan State, he would record his first multi catch game for the Buckeyes. Afterwards coach Urban Meyer was quoted as saying " Boy he's going to be good. He's way ahead of schedule."
In the last game of the regular season he had his coming out party when he had two 24 yard touchdown receptions and a blocked punt against the 4th ranked Michigan Wolverines. He would follow that up with another steady performance in the Big 10 Championship where he put up a 5-79-1 stat line.
Since then he has never looked back. As a sophomore he would contribute 49 receptions for 849 yards and 12 TDs. In the covid shortened 2020 he added another 50-729-7 line. Olave entered this season, his senior, as my number one rated wide receiver. I see no reason why I would change that as of now. He has already caught 23 passes for 374 yards and five touchdowns. This puts him on pace to have his best season yet, all with a redshirt freshman playing QB and fellow star wide out Garrett Wilson eating up targets too.
Chris Olave Areas for Improvement
I don't see many scouts really diving in on his weaknesses or looking for the niceties in his game. During the Chris Olave scouting report I want to focus on his areas to improve first as his strengths are many, and he excels in so many areas.
Learn to Protect Himslef
Olave has great speed and acceleration allowing him to get to full speed very quickly. As we all know when something is moving incredibly fast and hits something else it can hurt. Olave doesn't surrender himself enough or contort away from big hits. Marvin Harrison was a player who seemed to never get hurt from taking a hit and I would like to see Olave study how Harrison avoided contact.
If he continues to allow players to lay hits on him like he has in the past, he may spend a great deal of time on the sideline in the NFL. Early in 2020 I saw him take a few too many and I have been concerned about this since. In his defense, he usually bounces back.
Improve Route Running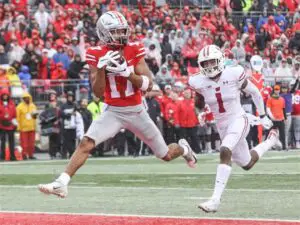 I've seen droves of scouts praising his route running to this point. I'm not saying it is bad, but it's not perfect. When I watch him run routes I don't see him stack defenders as well as I'd like. I see him use more of a one step movement. This may be because his speed allows him to run past them. In the NFL he won't be able to run past every corner though. If he could learn to stack the defender similar to Amari Cooper, Olave could take his game to a whole other level.
Physicality
Olave is the Top WR prospect in the 2022 NFL Draft according to me, but there are a few others who are much more physical than him. I would like to see him be more aggressive when run blocking. It would also be beneficial to him if he added some more strength and physicality for contested catch situations.
As for the run blocking if he isn't blocking, but using a route to draw the defenders he needs to sell the route. He tends to run lazy routes in these situations. No one is fooled by them. Not the defender or me when watching film.
Chris Olave Strengths
You know when you go to the grocery store and buy a lot of groceries and the checker hands you what seems like the worlds longest receipt? Well that's kinda like the list of what Olave is good at. It seems endless. For times sake we will focus in on just a few things.
Speed and Acceleration
As mentioned above, Olave has been clocked at 4.38 in the 40 yard dash. Chris Olave 40 time has been updated to a 4.39 after his combine performance. Unlike many players I believe he is that fast on the field as well. More often than not he is beating the secondary over the top. I can only imagine how many touchdowns he'd have if Fields didn't overthrow him so much.
It's not just his speed that's impressive, but his acceleration. Chris seems to be at full speed after just one step. When watching him he seems to almost be getting off the ball faster than anyone on the field. This happens on every play. When Ohio State puts him in motion he is almost impossible to keep up with.
Tracking Deep Balls
In combination with his speed being upper echelon, he also tracks deep balls incredibly well. A quarterback should feel comfortable just throwing it down there knowing he will get under it. There are many examples of this when watching his film. Times when the quarterback throws it to the wrong shoulder and Olave turns effortlessly in stride to pull the ball down for a big play.
Eats Up Zone Defenses
If teams are afraid to get beat over the top, and play him in zone, he eats them alive. He has great awareness to know where to sit, like fellow draft hopeful Drake London. Even more so, he sees the levels open up and uses his speed on crossing patterns, something London can't do, to create a play. He never seems too close to the linebackers nor the deep zones. This allows his quarterbacks to drop the ball in between the two perfectly.
Improvisation
When his quarterback is in trouble he knows when to come back to the ball. Not all receivers excel in that area, though it seems they should. Olave helps his quarterback by getting open even when the route didn't work. Playing with a mobile quarterback who could extend plays in Fields, Olave shined in the back yard ball situations and routinely gave him somewhere to go with the ball. There were many times he was open, but the QB ran instead. I saw a lot of receiving yards left on the field last year due to the QB running too soon.
Spatial Awareness
I alluded to this above when we discussed his ability against zone defense. I want to add more though, as it's one of my favorite parts of his game. Chris Olave knows how to use other defenders and receivers to his advantage. He creates pick plays basically, even when they weren't designed.
If you see him in trips or stacked up pre-play, you might as well chock up a catch for him. I don't think he is a Julian Edelman type receiver, but he has Edelman's ability in this sense. Imagine if Edelman was a deep threat who could outrun corners too. Brady would have salivated. His great awareness also allows him to know where he's at and consistently get his feet down on throws to the sidelines.
Chris Olave Draft Stock
At the time of writing, week five of the college season has just finished. Currently Olave is firmly entrenched as my number one wide receiver. However the gap isn't a big gap. Depending on the type of receiver a team wants, or is looking for, I could see the first receiver off the board being a few different guys.
Olave should be a day one pick. I'd be comfortable taking him in round one for sure. His ceiling is early round one with a floor of middle round two. If he fell to the second round I'd be very surprised, but I know a lot of people are noticing some of the bigger bodied receivers who are having good seasons so far.
Final Thoughts on Chris Olave
Chris Olave is the real deal and should have his name called early in the 2022 NFL Draft. As one of the top NFL prospects I don't see that changing. He has good hands, speed, and intelligence. With no major weaknesses or areas of concern, I don't see any team leaning away from him. Olave should become a favorite target of his new QB as soon as his name is called.
The only concern I had regarding his draft status when watching film for the Chris Olave scouting report was the play of his current QB CJ Stroud. I wonder if Stroud's inability to find him when he's open from time to time will hurt him. I also think Stroud tends to target Wilson more. Could Wilson getting more looks allow him to surpass Olave in some peoples eyes?
Chris Olave NFL Comparison: Olave reminds me a lot of Seattle Seahawks wide receiver Tyler Lockett. When he is running crossing routes he has the same surgical ability to find the middle of the zone and pull in a pass while running up field. I also see similarities in their ability to improvise and come back to the quarterback when he extends the play. Lastly they both have great over the top speed and the ability to track a deep ball. I would say Olave has a higher ceiling than Lockett in the NFL though.
Chris Olave Scouting Report by Ken Noble