Kinglsey Enagbare, Edge, South Carolina
Full Kingsley Enagbare Scouting Report for all Draft fans.
Enagbare is built with the NFL measurables in mind. He stands 6-4 and tips the scales at 270 lbs. as a senior for the Gamecocks. He is the prototypical size and build of an edge rusher at the next level. I see why some scouts are salivating at his potential. I also see some things that make me say hmm…
Kingsley also known as "JJ" came on strong during his junior season and a lot of NFL scouts took note. He decided to return to South Carolina for his senior year. This is a decision that could help him if he shows continued growth this coming season. In only 8 games he recorded 6 sacks and 7 tackles for loss (full bio and stats).
Many project him to improve upon those numbers with a strong senior season. However I'm not sold just yet. I do see a lot of positives as well as top tier potential, but I also have many questions that I need answered first before I rank him as high as some others. PFF has him ranked second in the upcoming class at this point.
Kingsley Enagbare has one of my favorite characteristics locked down. He is a high motor high effort player. If you watch tape, you will see him routinely make plays because of his relentless effort. Check his film against the Tennessee Volunteers last season to see more. Reports say he is an extremely competitive player and practices incredibly hard. Great characteristics for a player who we want to see more growth out of.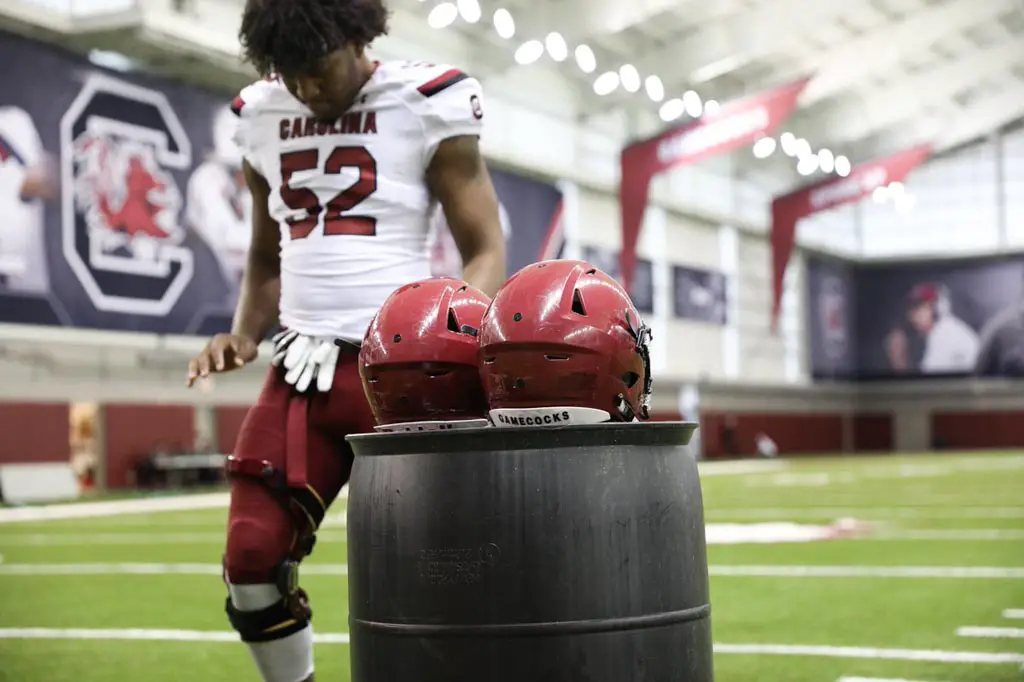 I love his ability to stack up a blocker and make a play on the ball carrier in the run game as well. When it comes to pure run stopping ability, he is one of my favorite edge defenders to watch the last few years. He is strong and has a fierce first impact on his bull rush. He routinely pushes defenders into the back field.
South Carolina utilizes him on stunts, allowing him to attack interior lineman as well and he tends to run right through them when he has a full head of steam. Coaches and teammates of his also mention his leadership ability often. He checks most of the boxes for sure.
Even though he had decent sack numbers last season, I'm left questioning whether he can recreate those numbers this year. Most of his sacks come off of extended plays. He is getting to the QB much later than I'd like to see. I don't see an elite first step from him. He is definitely athletic, but he just looks slow off the ball. I saw more explosion at the snap from Kwity Paye last season. Even this year I see other EDGE defenders with more wow factor like Thibodeaux from the Oregon Ducks.
He had hip surgery already in his career and this spring, during the spring game, they reported he was dealing with a lingering knee issue. He also missed two games last year due to injury. Thus making durability a bit of a weakness at this point. Definitely one for NFL teams to vet prior to the draft.
He needs to show an improved arsenal pass rush moves and hand fighting techniques in order to progress. In the run game he is a strong and capable run stopper. However, I could see him getting burnt on good counters and option plays as he occasionally gives up his edge to get inside to make a play.
While watching film for the Kinglsey Enagbare scouting report, I see that he deserves some notice and praise for his on field efforts. He is a strong player with his hand in the dirt or standing up as an OLB. I really like him as a 4 technique, but question if he is elite. I will be following him closely this season and hope he continues to grow. However, if I want a sack master or play maker I have a few other Edge players higher than him.
As I said before I saw a lot of late sacks on the film and I question whether or not he will have that much time without Jaycee Horn and Israel  Mukuamu taking away receivers. We will see if fan favorite Enagbare can create the pressure himself during the upcoming season. I will update his NFL Draft scouting report as needed. At this point I wouldn't consider him in the first round of the 2022 NFL Draft though.