Felipe Alvear NFL Draft Profile and Scouting Report
Felipe Alvear Scouting Report
2023 NFL Draft Measurements
5'9" 195 lbs.
Felipe Alvear 40 time: 4.61
NFL Draft Report
I couldn't find any recruiting information on Alvear, but he played high school ball at Katy High School in Texas. Alvear then attended Oklahoma Baptist where he had a strong college career before transferring to Northern State University for his graduate year. In his high school and college career, Alvear earned multiple football and academic awards.
Athletic
This is how he ended up on our radar. He put up impressive workout numbers and I wanted to take a closer look. His numbers are what safeties put up at the NFL Combine every year. I like to see the quick short shuttle and 3 cone drill times out of my defensive backs because they need to be able to change directions on a dime and accelerate quickly. Straight-line speed is fine, but every route isn't a go route, especially in the NFL.
More importantly, the athleticism shows through on tape. Everyone knows you have to be quick in pads, not shorts. Alvear shifts from backpedaling in coverage to closing the distance on the ball extremely quickly. He goes from being in coverage in the center of the field to making tackles for loss on wide receiver screens in a snap. This athleticism allows him to be able to make a play anywhere on the football field.
Motor
Alvear is always going towards the ball. There are a ton of plays where he's the one who chases down an opponent who looks like he's gone. I mentioned him playing from sideline to sideline and it's definitely true. There are plays where he's literally crossing the entire field before making the tackle.
But it's not just the range that's impressive, it's the intensity. Alvear plays with a relentless motor that doesn't quit until the play is over. He's always moving and always looking for an opportunity to make a play. Even when he's not directly involved in the play, he's still hustling to get to the ball carrier and ensure that he doesn't get too far downfield.
Tackling
Felipe Alvear brings the lumber. He's great at separating the ball from the receiver. He's at double-digit forced fumbles for his college career. He also caused plenty of drops by bringing big, but legal, hits to receivers. Everyone loves the hit stick tackles, but he also possesses very good tackling form.  Alvear wrapped up a lot of runners and brought them to the ground. He's great at taking the opponent's feet out from under them. Alvear had multiple double-digit tackle games to back up what I saw on film. 
Intelligence/Awareness
Alvear is great at reading plays. He seems to have a natural instinct when it comes to anticipating where the ball is going to be. His quickness and athleticism help him to cover a lot of ground, but his ability to read the offense is what really sets him apart. He's able to diagnose plays before they happen and adjust accordingly. This allows him to be in the right position to make a play. He's also great at recognizing routes and breaking them up. Alvear has a high football IQ and it shows on film.
Felipe Alvear NFL Comparison
His game, play style, size, and athleticism reminds me of Antoine Winfield Jr. of the Tampa Bay Buccaneers.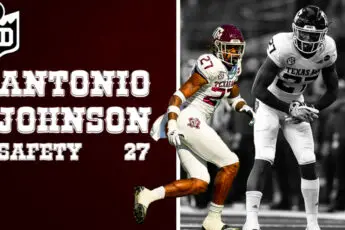 Antonio Johnson Scouting Report and NFL Draft Profile     Antonio Johnson Scouting Report: Texas A&M Aggies, Safety, #27  ...