Derek Stingley Jr. Scouting Report/ Derek Stingley Jr. NFL Draft Prospect Report
Cornerback, LSU Tigers, #7
Derek Stingley Jr. Measurements
6'1″ / 200 lbs
Derek Stingley Jr. NFL Draft Player Profile
Even if you have never watched an ounce of tape, simply looking at the accolades Derek Stingley has collected in his playing career you can understand why he is at the top of every draft prospect ranking that is released, including ours. A consensus five-star recruit and the #1 recruit overall by Rivals coming out of high school, Stingley enrolled at LSU early. This allowed him to participate in the team's bowl practice. It was then that coaches said he was already the best cornerback on the team (and I feel compelled to mention that the Tigers had current Cleveland Browns CB Greedy Williams on the team at the time). He turned that into a freshman season for the ages. During LSU's National Championship run, Stingley recorded 38 tackles, 21 pass defenses and 6 interceptions. He also earned both All-SEC and All-American nominations.
Derek Stingley followed that up with another 27 tackles, a forced fumble and 5 pass defenses in the shortened 2020 season. He also picked up more All-SEC and All-American nominations. Stingley might not put up impressive numbers that fill up a boxscore, but that's only because teams stay away from his side of the field. In only two seasons, Derek has become a true shutdown corner for the Tigers. Now, heading into his junior season, he has been given the distinct honor of wearing #7. The number has been given to the top playmaker for the Tigers over the last decade and a half. He joins an elite group of players including; Patrick Peterson, Tyrann Mathieu, Leonard Fournette, and Grant Delpit too have donned the number during their time at LSU.
Derek Stingley Jr. Strengths
Anticipation
In high school, not only did Derek Stingley play cornerback, but he also played on the offensive side of the ball as a running back and wide receiver. When watching him run with defenders, you can see that background with the way he's able to anticipate the route. Stingley sticks with the receiver, and makes plays on the ball. He also uses his anticipation to jump routes when he gets a read on the quarterback and knows the ball is coming his way.
Ball Skills
Did I mention that Stingley played wide receiver in high school? You can tell by the way he's able to get his head around, find the football in the air, and make a play. Most cornerbacks are playing the position because they typically don't have the hands to play wide receiver, but that's not the case with Stingley. If he can get his hands on the ball, there's a good chance he's coming down with it for an interception.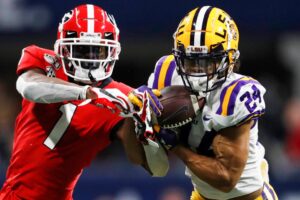 Active Hands
If it wasn't already hard enough to beat Stingley, he makes it even more of a fight once the ball arrives. When completing the Derek Stingley scouting report I loved the way that Stingley was constantly fighting for the ball. His hands are always in between the receiver's, ripping at the football to break up the pass. He's never going to give the receiver an easy catch.
Speed
They say that speed is something that can't be taught, but luckily for Stingley he doesn't need to learn. With 4.3 speed for his 40 time he's easily quick enough to run with just about anyone. This allows him to stay on the wide receiver's hip throughout the route. On the rare occasion that a receiver is able to get by him, he's fast enough to be able to close the gap and make a play on the ball. Derek is never out of the play.
Derek Stingley Jr. Areas for Improvement
Defense at the Line of Scrimmage
While a very good prospect, Stingley isn't without his blemishes. One of my biggest takeaways while watching film on him was that he never seems to attempt to jam the receiver off the line of scrimmage. Stingley has all the instincts and speed he needs to be able to run with whoever he's covering. However, he is susceptible to getting beat by quick routes or double moves at the snap. Go back and watch the LSU-Florida matchup in 2019 and you'll see what I'm talking about. I would love to see him be more aggressive at the snap and disrupt receivers at the line of scrimmage.
Open Field Tackling
This one might be me nitpicking a little too much, but here it goes. I'm going to start by saying Stingley is a solid tackler and even shows the willingness to come up in run support to help make the play. My biggest issue with him is that he has a tendency to arm tackle in the open field. This has him grasping at air at times. I would love to see him break down, set his feet, and wrap up more while in the open field. This hasn't been a huge issue in college, but it might become a bigger one when up against NFL wide receivers.
Final Thoughts on Derek Stingley Jr. NFL Draft Profile
Every team in the NFL is going to be watching film on Derek Stingley Jr. and wishing that they could find a way to get him on their roster in the 2022 NFL Draft. Unless Stingley has one of the worst regressions in the history of mankind, or the top of the draft ends up loaded with a bunch of quarterback needy teams, at this point I don't see a way that Stingley is available to anyone outside of the top 5 picks. He has the size to cover both wide receivers and tight ends. Stingley has the speed to not only stick to receivers like glue, but to close down space in the event he is beaten. Finally, he has what could be the best ball skills out of every cornerback in the 2022 draft class. While I haven't watched tape on every cornerback to this point, he's my early #1. Remember he is a junior, so there's still always the possibility that he goes back to LSU for one more year. However, barring an injury, I would expect Stingley to be the first cornerback to hear his name called at the 2022 NFL draft.
Derek Stingley Jr. Draft Prospect Report / Scouting Report by Brandon Claburn